Custom Fretted Instruments & Repair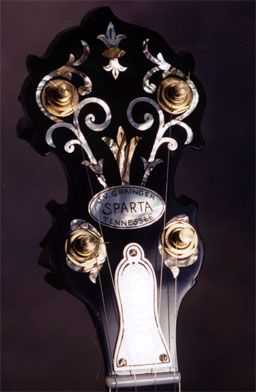 Welcome to Custom Fretted Instruments & Repair. Our shop, located on the side of a mountain near Sparta, TN, offers professional quality repair and restoration of fretted instruments such as guitars, banjos, mandolins, etc. Electric guitar repair, setups and electronics are a specialty.
We are an authorized warranty repair center for Fender, Takamine and Ovation, and are a dealer for several high quality musical instruments including guitars made by Eastman, Stonebridge/Furch, Huss & Dalton, and J.W. Gallagher & Son. We stock Eastman and Kentucky mandolins, Flinthill, Huss & Dalton, Stelling, and Ome banjos as well as McSpadden lap dulcimers and Dusty Strings hammer dulcimers.
We stock fretted instrument accessories, tuners by Korg and Peterson, strings for most fretted instruments and instructional and reference books and videos.
Custom Fretted Instruments & Repair
400 Firetower Road
Sparta, TN 38583-3746
931-657-2398
9am - 5pm Monday-Friday
10am - 2pm Saturday
contact@customfret.com
Our Latest 5 instruments. See our Products page to see the full list.
Name
Description
Price
2001 Rickenbacker 370/12

Very cool Rickenbacker 12 string here. Plays and sounds great with low action.

Has been played some and has some minor dings and scratches from light use. Also minor finish lifting in a couple of spots. I suspect this guitar was stored...

1899.00
2010 Taylor 514ce

This may be the best sounding guitar in our shop right now. Mahogany back and sides, Cedar top, nice abalone rosette, rosewood binding, and gold hardware.

This guitar was owned by an older man, and played very little, and treated with ...

2199.00
1999 Taylor 510 AB

SOLD

This is a beautiful guitar from Taylor's 25th anniversary limited series. It has mahogany back and sides, an Engelmann Spruce top, and nice abalone inlay around the outline of the top and around the soundhole.

It has sig...

1999.00
1968 Gibson B-25

SOLD

This is a great playing small-bodied Gibson guitar! It has a spruce top with the classic 3-tone gibson sunburst that is truly iconic. Mahogany back and sides give it a nice warm tone, and it also features an adjustable rosewood bridge....
1799.00
1964 Harmony Sovereign

SOLD

A 1964 Harmony Sovereign that was converted to X-bracing by our Steve Moore in 2015.

This great sounding guitar has been well care of, with minimal wear and tear. The guitar is quite stable, with the action much the same...

1400.00